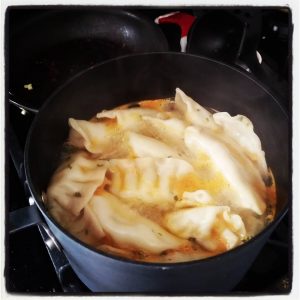 Something I love to make during the colder months is Potsticker Soup because it's ridiculously quick to make and it's filling.
Ingredients:
1 32oz. carton Swanson Thai Ginger stock
1 24oz. bag Tai Pei Chicken Potstickers
1/4 C. Sugar (optional)
Parsley (optional)
Dried Orange Peel (optional)
Instructions:
1. In a large (I used a 5 qt) pot, bring the broth to a boil. Add sugar, parsley, and orange peel at this time, if you're adding them.
2. Once the broth is boiling, add potstickers and bring back up to a boil.
3. Once potstickers are hot and tender, ladle into bowls and serve!