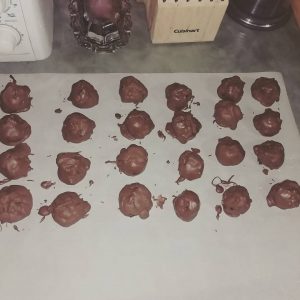 In an act of holiday kindness, I made "care packages" for my Dispatch team with these and the Rumchata Truffles included. Suffice to say, they went over well.
These are a variation on the recipe for Rum Balls provided by Food Network, modified specifically for my Dispatch team's particular allergies.
Ingredients :
2 cups finely ground Gluten-Free Brownies (Prepare according to package [I used Krusteaz]  — sub out water for Kahlua, if you like!)
1 cup powdered sugar, sifted, plus extra for rolling
1 cup Mini Semi-Sweet Chocolate Chips
2 to 4 tablespoons honey
1/4 cup Kahlua
4 ounces semisweet chocolate (or chocolate almond bark base), melted, optional
Instructions:
1. In a mixing bowl fitted with the paddle attachment, or by hand, mix together the brownie crumbs, powdered sugar, and nuts.
2. Stir in the 2 tablespoons of honey and the Kahlua.
3. Using your hands, try to form the mixture into a ball. If the mixture won't hold together, add a little more honey (or Kahlua).
4. Roll the mixture into 1-inch balls (I used a cookie scoop), then roll them in powdered sugar or melted chocolate, and let them set up. Then, let them age or ripen 24 hours.