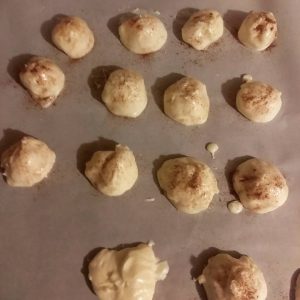 Ingredients:
1/2 cup of Rumchata
12 oz bag of white chocolate chips
Vanilla almond bark or white chocolate chips for dipping the truffles
cinnamon
Instructions:
1. Set up a double boiler using a heavy pot and a Pyrex bowl. Fill the pot approx. 1/3 with water and heat water to just below boiling.  In the bowl, place your chips and Rumchata. Place the bowl over the pot. As the chips begin to melt down, stir the Rumchata and chips together, creating a smooth mixture.
2. Once all of the chips are melted and the Rumchata is incorporated, transfer the mixture to a container and let it set in the fridge for 2-3 hours.
3. Use an ice cream scoop (smaller size), to roll the truffles into a 1 inch size ball. You might have to use your hands to shape the ball.
4. Using the double boiler setup from earlier, melt the almond bark or chocolate chips.
5. Dip the truffles into the almond bark and sprinkle with cinnamon to decorate.