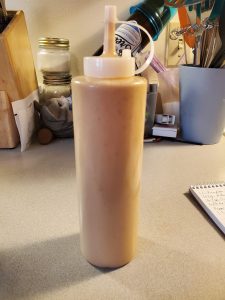 Ingredients:
1 C. Pumpkin Pie Filling
1/4 Tsp. Ground Nutmeg
1/2 Tsp. Ground Cinnamon
Salt to taste
Pepper to taste
1 C. Half and Half
Instructions:
1. Combine Nutmeg, Cinnamon, and Pumpkin Pie Filling in a medium sized bowl. Mix together until well blended.
2. Whisk in Half and Half.
3. Add in Salt and Pepper to taste, and whisk together.
4. Enjoiy with coffee, ice cream, or anything else you'd like to add it to.
---
Note 1: Feel free to add more spices to suit your palate. I like my PS blend to be balanced, so this works for me.
Note 2: Future versions will have other spices added similar to my Masala Chai blend (cardamom, for example). I just need to get a spice/coffee grinder first!
---