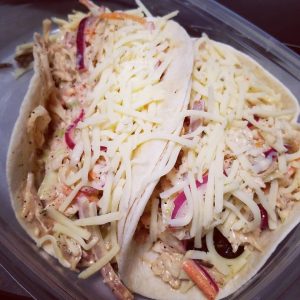 If you know me, you know I like a good taco. While I typically stick to avocado, chicken, steak, or ground beef, I sometimes want something a little more fancy to hit my palate. I'm also a huge fan of such shows as Ugly Delicious and Salt, Fat, Acid, Heat that show how relatable and easy it is to make gourmet-style food at home. Just follow your palate.
Ingredients
Short Ribs
3 lbs boneless short ribs
1 Cup Worcestershire Sauce
1/2 Cup Golden Syrup
1/4 Cup Minced Garlic
Salt to Taste
Pepper to Taste
Aleppo Pepper to Taste (Optional)
Spicy Lime Slaw
14 oz Bag of Dole Traditional Cole Slaw (Shredded Cabbage and Carrots)
1/4 Large or 1 Small Red onion, thinly sliced
1/3 Cup Mayo (Honestly, I use store brand from Aldi or Meijer — I find it tastes just as good as Hellmann's at a portion of the price.)
Juice of 2 Limes
3 Tbsp Pico Fruta Spice Mix
Other Ingredients
Your Choice of Tortillas (I used Mission Super Soft Tortillas)
Your Choice of Cheese (I used Shredded Pepper Jack, but I believe that Cotija or Quesadilla would work well, too)
Instructions
Preheat your oven for 250* F.
In a small bowl, combine Worcestershire sauce, golden syrup, minced garlic, salt, pepper, and Aleppo pepper, stirring thoroughly to blend all ingredients together.
In a shallow pan, place short ribs. Coat short ribs with marinade/braising sauce, then cover pan with aluminum foil. Place pan in oven and set timer for 2 hours.
While the short ribs are cooking, prepare your slaw.
To prepare the slaw, first quarter your onion, then slice it into thin pieces.
In a medium-sized bowl, combine cole slaw base and sliced onion, then set aside.
In a small bowl, whisk together mayo, lime juice, and Pico Fruita spice until smooth.
Combine cole slaw base, onion, and dressing, then cover and refrigerate.
Once short ribs are done, break them down in the braising liquid so that they are shredded.
Remove slaw from refrigerator and toss together to blend once more.
Heat your tortillas on both sides, fill with short ribs, then slaw, then cheese of your choice.
Serve, eat, and enjoy.