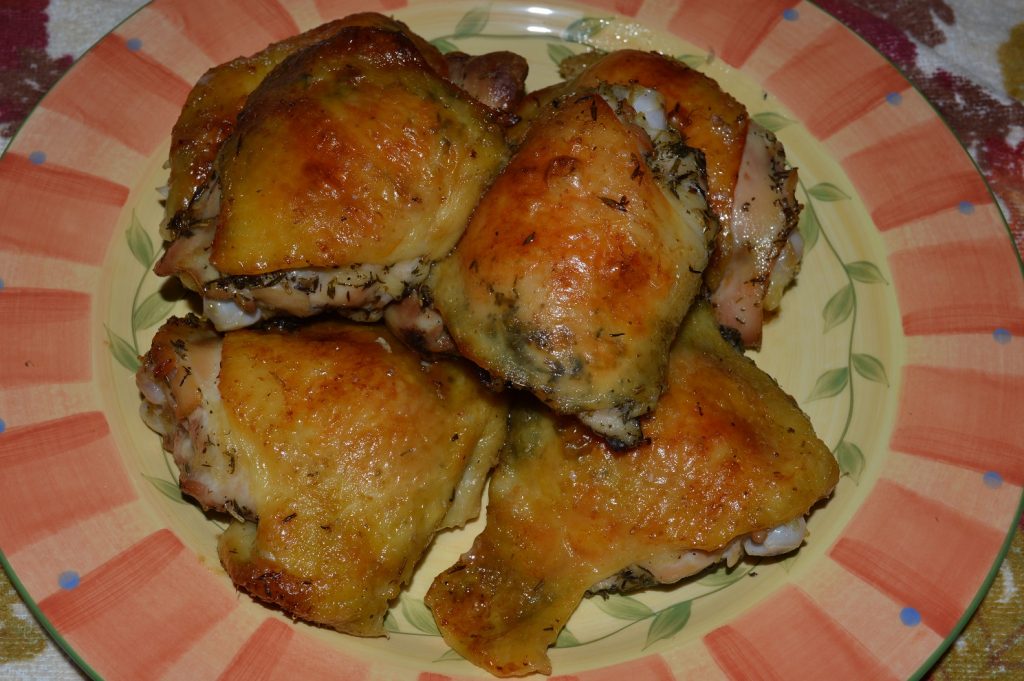 For Stone Dog XII, being held in 2016, I'll be the head cook for our Russian-themed Feast. Since it's my first go-round, I was asked to try the recipes I'll be making (and actually document them, in some cases). Given that it's the day before Thanksgiving, I figured I'd make the chicken dish I'm planning; it's not turkey, but it's pretty amazing all the same.
One batch makes ~10 lbs or 20 pieces of chicken.
Ingredients:
16.9 oz. Baltika No. 9 Russian Lager
1/4 C. Sea Salt
3/4 C. Sugar
1.5 L  Hot Water
1.5 L Ice Water
10 lb. or 20 pc. Chicken Thighs
1/4 C. (1 Stick) Unsalted Butter
1 Tbsp. Each of:
Whole Peppercorns
Thyme
Basil
Rosemary
Minced Garlic
Instructions:
1) Combine Russian Lager, Salt, Sugar, and Spices in a large bowl or kitchen tub. Stir to combine ingredients and begin dissolving salt and sugar for the brine base.
2) Heat up 1.5 L of water to just below boiling. Once heated, add into brine base and stir in, ensuring salt and sugar are dissolved.
3) Add 1.5 L of ice water to cool the brine down.
4) Add chicken, giving it a stir to distribute the spices throughout the mixture.
5) Cover chicken and brine, and refrigerate for 16-24 hours.
6) When ready to cook, pre-heat oven to 375* F, line pans with foil (helps with clean-up later), and melt butter.
7) Pat chicken pieces dry and lay them out in a single layer on the pans you're using. Baste chicken with melted butter before placing in the oven.
8) Place chicken into oven and set the timer for 60 minutes. At the 40 minute and 20 minute marks, baste with more butter.
9) At the end of 60 minutes, check the internal temperature of the chicken with a kitchen thermometer to 165* F. Once it's at 165* F, remove chicken from oven and allow it to rest prior to plating and serving.
10) Serve and enjoy!