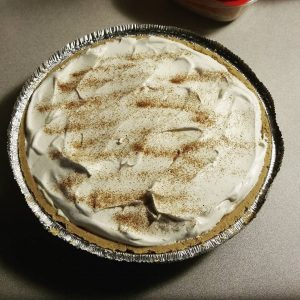 Ingredients:
150 ml of Rumchata
12 oz bag of white chocolate chips
2 Prepared Graham Cracker Crusts
Prepared Cheesecake Base (Philadelphia makes a fantastic one)
Extra Creamy Cool Whip
Cinnamon Sugar to garnish
Instructions:
1. Set up a double boiler using a heavy pot and a Pyrex bowl. Fill the pot approx. 1/3 with water and heat water to just below boiling. In the bowl, place your chips and 100 ml of Rumchata. Place the bowl over the pot. As the chips begin to melt down, stir the Rumchata and chips together, creating a smooth mixture.
2. Pour half of the ganache in each crust, spreading so that it creates an even layer, then place in the fridge to set for 20 minutes.
3. While the ganache is setting, add your remaining Rumchata to the Cool Whip and stir to blend. Put aside in the fridge until ready to add it.
4. Once the ganache has set (it shouldn't move about easily if the pan is tilted), add half of the cheesecake base to each crust and spread so it creates an even layer.
5. Add half the Cool Whip to the top of each cheesecake, spreading evenly.
6. Sprinkle cinnamon sugar over each, and serve or store in the fridge until later.