As you may or may not know, my home Barony, Ayreton, has hosted a Scribal and Brewing event aptly named A Monk's Life: Scribin' and Imbibin' for the last 2 years. This upcoming year, it's being held on my birthday. So, you KNOW I have to make something for it.
I chose to make limoncello. I tried to make a honey-lemon cordial last summer that ended up being more like limoncello, so I just ran with it. This time, though, there's a recipe involved. We'll see in March how it matures, but when I blended everything earlier, it tasted pretty darn good.
Start Date: 12/31/2016
Bottle Date: 3/17/2017
Ingredients: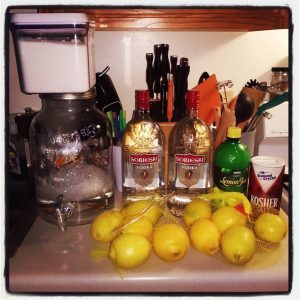 3.5 L (2 – 1.75 L Bottles) of 80 Proof Vodka (I use Sobieski)
32 oz. Lemon Juice (Bottled, from concentrate is fine.)
1 Tbsp. Kosher Salt
3 C. Sugar (More may be added later when tested)
4 lbs. Lemons
Instructions:
1. Rinse lemons twice in hot water to remove any wax that may be on them. Once lemons are clear of wax, zest them using a potato peeler so that you have large strips. They will be removed prior to bottling, and this will make that easier.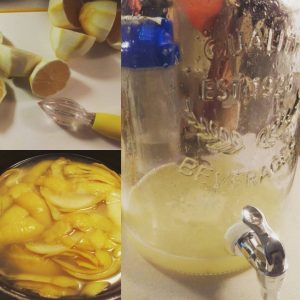 2. In a large pot, combine bottled lemon juice, sugar, salt, and lemon peels. Bring up to a simmer and allow sugar to dissolve.
3. While waiting for the sugar to dissolve, juice the fresh lemons. Add the fresh lemon juice to the container you'll be using to make your limoncello. I'm using a 2 gallon glass container for mine. Glass > Plastic!
4. Once cooled, add the sweetened juice mixture to the fresh juice and stir to combine. Peels go in, too!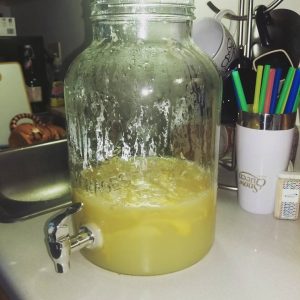 5. Add your vodka, stir to combine again, and put in the corner for the next 3 months. Once a month, stir to agitate the mixture.
6. After 3 months, bottle and enjoy!