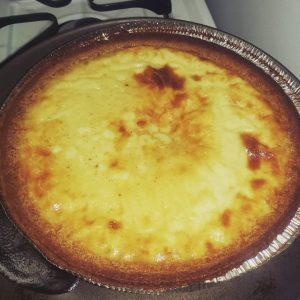 Ingredients:
1 – 9in/ Graham Cracker pie crust
4 Large Eggs
2 C. Milk, Heavy Cream, or Half-and-Half
1/4 C. Sugar
1/8 tsp. Mace (or 1/2 tsp. Nutmeg)
1 tsp. Vanilla Extract (either paste or liquid)
1/2 tsp. Salt
Instructions:
1. Pre-heat oven to 350*F.
2. Lightly beat eggs like you would for scrambled eggs.
3. Add salt, sugar, nutmeg, and vanilla to eggs. Beat lightly to combine.
4. Add milk to egg mixture. Beat to combine.
5. Pour custard mix into your pie crust.
6. Put the custard pie into the oven and cook for approximately 45-55 minutes. Custard will be firm and slightly jiggly when done.
7. Once done, remove from oven and allow to cool.
Optional: Sprinkle white sugar across the top of the pie, then melt with a culinary torch to create a creme brulee topping. Serve with whipped cream and/or fresh fruit.