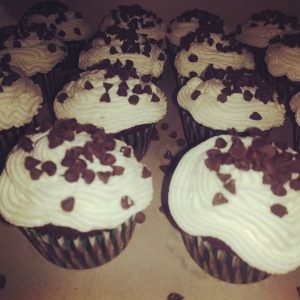 Makes 24 filled and frosted cupcakes.
Cupcake:
1.5 C. All-Purpose Flour
6 oz. Dark Chocolate Hot Cocoa Powder (4 Pouches of regular, 6 pouches if you use the Simply Dark variant)
1.5 Tsp. Baking Soda
3/4 C. Porter or Stout (I used Revolution Brewery's Eugene Porter, but Guinness or Dragon's Milk Stout work just as well!)
1/2 C. Milk
4 Eggs
1 C. Melted Dark Chocolate
3.5 oz. Chocolate Fudge (or plain ol' Chocolate) Pudding (3 Single Serving Cups)
(Note: You can make the quick and dirty version by purchasing a box of Betty Crocker Super Moist Triple Chocolate Fudge Cake Mix and just substituting the water for your choice of dark beer and following the on-box directions; I heartily suggest using either Guinness or Dragon's Milk!)
Frosting/Filling:
1 Pint (16 oz.) Heavy Cream, Well Chilled
3/4 C. Powdered Sugar, Sifted
1/4 Tsp. Cream of Tartar
2 Tbsp. Irish Cream
Cupcake Directions:
1.Preheat oven to 350* F.
2. Combine all dry ingredients in a large bowl.
3. Slowly add your beer to the dry ingredients. It will foam up. Whisk together slowly to incorporate.
4. Add the rest of your wet ingredients and incorporate.
5. Add cupcake liners to your tin and lightly spray (I used olive oil spray. Cake release can also be used.) so the batter doesn't stick heavily to your liners.
6. Pour batter into liners (approx. 3 Tbsp/cup) and bake for 15-20 minutes (check after 15 — every oven's different!).
7. Set aside to cool.
Frosting/Filling Directions
If you can, chill your whisk attachment and mixing bowl prior to making the frosting. It'll make things move more quickly.
1. Combine dry ingredients in a small bowl (this one does not need to be chilled) and combine.
2. In your chilled bowl, combine wet ingredients. Start your mixer (hand-held or stand mixer) on slow and gradually increase speed until hard peaks form.
3. Once hard peaks form, lower the speed of your mixer and gradually add the dry ingredients, mixing until combined. The frosting will be stiff and will not run once it's ready.
4. Using a pastry bag and a Wilton #230 tip, fill the bag with frosting. Insert the tip 2/3 of the way into the cupcake, and slowly pull out to fill. Repeat for the other cupcakes.
5. Once cupcakes are filled, take a second pastry bag with coupler and attach your choice of decorating tip (I like using a #32 tip). Decorate the top of the cupcakes.
6. Garnish with mini chocolate chips, if you'd like, and serve!