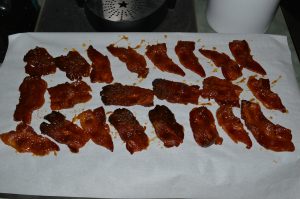 My SCA sword brothers, House Clovenshield, love bacon… And when celebrating one of your sword brothers' 4 years of cancer remission, why not go all out? So, I made them candied bacon.
Makes 4 lbs. of Candied Bacon. The ingredients can be quartered if you're only making 1 lb… But why would you?
Ingredients
2 C. Light Brown Sugar
4 Tsp. Garlic Powder
4 Tsp. Smoked Paprika
4 Tsp. Ground Nutmeg
2 Tsp. Black Pepper
4 lb. Thick Cut Bacon (I used bacon that was applewood smoked)
Utensils
1 Spoon
1 Large Bowl (or reclosable bag)
4 cookie Sheets
Parchment Paper
Cooling Rack
Sharp Knife
Cutting Board
Directions:
1. Pre-heat oven to 400° F.
2. Combine all dry ingredients in a bowl.
3. Open bacon packages and cut in half.
4. Line cookie sheets with parchment paper.
5. Lay bacon in cookie sheets from edge to edge, making sure the pieces touch.
6. Liberally sprinkle approx. half of the dry rub on bacon. Rub into meat once applied.
7. Place bacon into oven for 15 minutes.
8. After 15 minutes has passed, remove bacon from oven and turn over.
9. Liberally sprinkle the other half of the dry rub on the bacon.
10. Cook bacon in the oven for another 15-18 minutes.
11. Line cooling racks with parchment paper.
12. Remove cooked bacon from cookie sheets and place on lined cooling racks.
13. Allow bacon to cool.
14. Enjoy (preferably with a cold beverage of your choosing)!